This article is going to explain how to apply a circular mask to make an image field a circle, even if it is uploaded as rectangle or square. This can be used with images from an album, image variable fields, or clip-art. Please note, clip-art images will act differently, it is highly advised you use images from the album, or make an entirely new image field.
Instructions
1. Add an image field to your canvas.
2. Double-click the field, an Image Options pop-up will appear.
3. Navigate to the third tab, Border and Background Options.
4. You will need to either select Solid, Outline or Outer for line type. This example uses Solid.
5. Keep the Width to the far left, this will simply make the border line as small as possible.
6. Set the Radius to the far right for a perfect circle. Adjust it to the left for curved edges of a square or rectangle. You will also need to make sure that your height=width for the perfect circle.
7. If you do not want to see the border, either set the color of the border to your background, or set the opacity to the far left.
8. To fit the image to the circle, you will need to disable Fit without cropping, found in the Details tab.
9. After you create your circle, you can add an image to the field.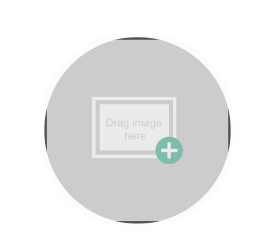 10. You can make any adjustments you want with the available options mentioned above.
Troubleshooting
If you have any questions, or are having difficulty applying a circular mask to your products, please raise a support ticket with the URL to the product landing page of your product, and we will gladly assist you.