Insights is our reporting module and is the answer to all your reporting needs.
We have spent many months creating this module to give our customers a reporting platform that is scalable, flexible and built for the future.
How does it work?
Each customer now has their own reporting database, you won't see or even know it exists but trust us - this is what drives your reporting data. It is independent from your live transactional database and we did this for a number of reasons:
Performance - when running complex or multiple reports it should not impact your live storefronts as the data is stored separate.
It allowed us to restructure the data into a more purposeful and meaningful schema with the sole purpose of providing reports.
The data is then synced between the live database and the reporting database so that your reports are as close to real time as possible.
How can I get Insights and is there a cost?
Insights is broken down into four plans, each allowing you different levels of access and customisation for your reporting needs.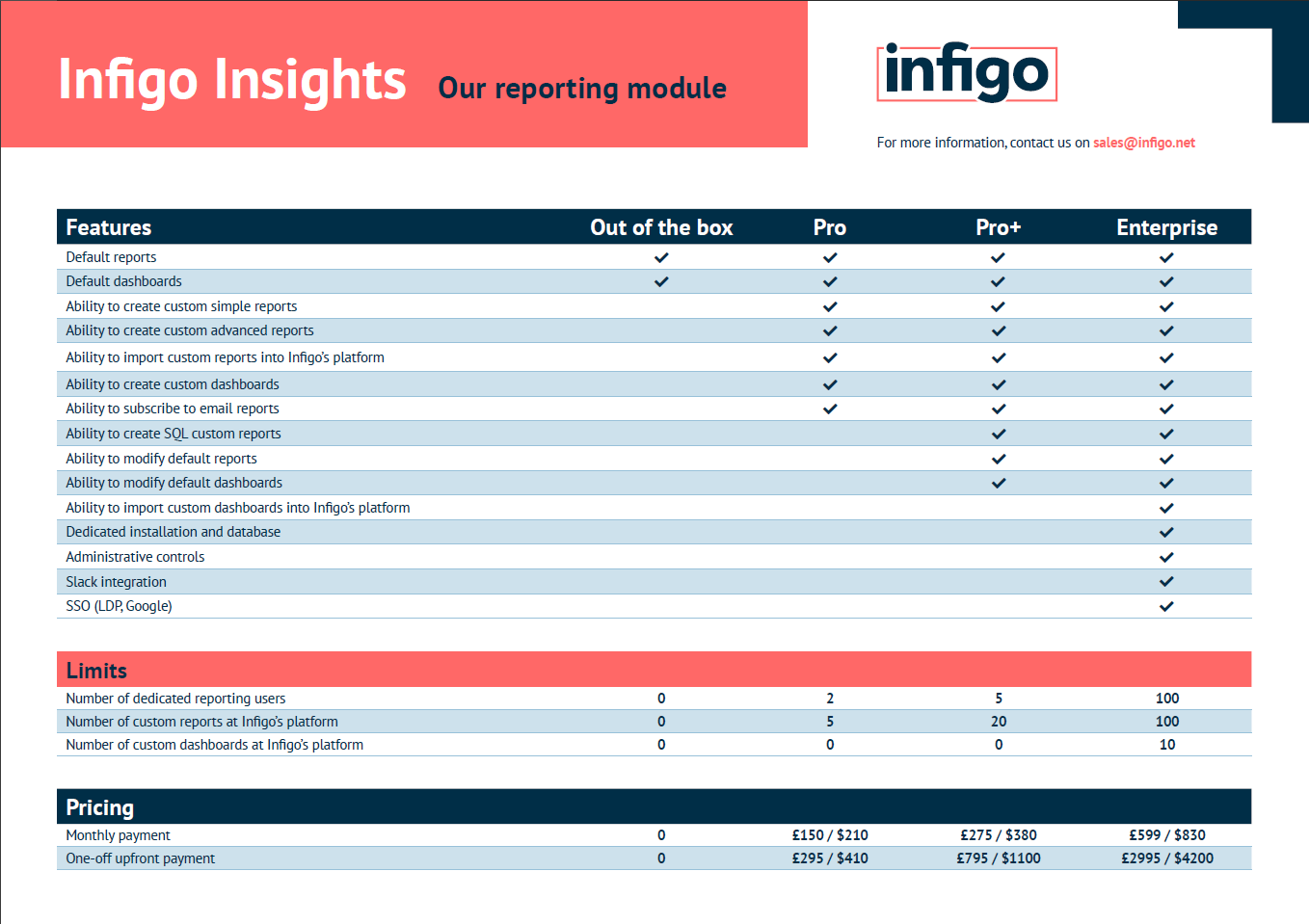 Click here to view this chart online
Insights Standard
This is our entry level plan and comes as standard with every Infigo platform.
Your functionality and its benefits are limited but you can see what is included here.
Insights Pro
This is our first paid plan and is there to give you a taste of the real power of Insights.
You will be provided with a login to your Insights admin portal where you can create your own custom reports. Found out more about Insights Pro here.
Insights Pro+
Pro+ is a step up from Pro where the functionality remains the same but you will have the ability to create more custom reports, have more users accessing it and also the ability to send scheduled pulses (emailed reports). Found out more about Insights Pro+ here.
Insights Enterprise
As the name suggests, this is our Enterprise offering of Insights. In this plan you will have your own dedicated Insights portal, our highest limits on producing custom reports and pulses and also the introduction of creating your own dashboards. Found out more about what Insights Enterprise has to offer here.
How do I use it?
The answer to this question depends on the Insights plan you are on, but ultimately what your customers/users will see in admin is a new menu item called 'Insights.'
This contains all the reporting options within Infigo all in one place. If you previously used Reporting Centre to retrieve your reports, you will now be able to find this as a sub menu item under 'Insights' (Reporting Center (Legacy)).
In addition to this you will see two new menu items called 'Dashboards' and 'Reports'. And these are all driven from the Insights portal.
Follow these links to find out more about Dashboards and Insights Reports.
NOTE: All dates used in any reports, dashboards or subscriptions are in UTC