In MegaEdit, we have the ability to limit the amount of text allowable by the size of the text field. This can be useful if you want to limit users specifically to the text field box instead of having text bleed out of the box - which is the default behavior.
This article will show you how to configure this, there is no extra setup as each MegaEdit product can run this functionality out of the box.
*Please Note: This limitation does not take character count into consideration, this is only a text field limit.
1. Click on your text field, and navigate to the furthest right menu option:
2. Scroll down until you see Movement Restriction. Set it to Fixed.
3. Now, go to the second tab from the left.
4. Under Text Type Mode, change it to Restricted: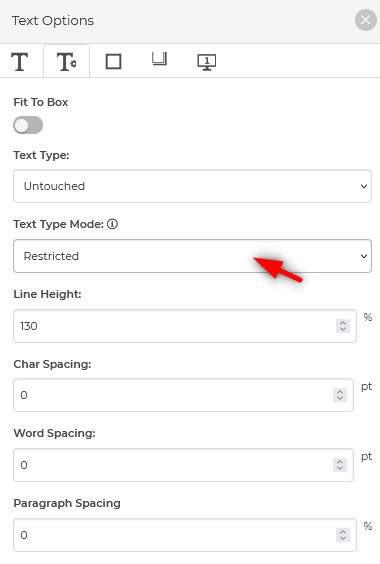 5. Now, when you type too much in the text field, you will get a warning message:
6. For these changes to stay in effect, please go to Show Menu (at the top of the screen) and press Save as Product Default.