Within Infigo Designer, you can restrict which shared albums image fields have access to. You can see how to create shared albums here.
To configure this, you will need to do the following:
Open your PDF template in an instance of Adobe Acrobat with Infigo Designer installed.
Use either the Select Field Entries tool or the Show Field Settings menu item from the Infigo Designer toolbar menu to open your image field's Field Settings page, and navigate to Field Information -> Properties (See below for an example of the property list)
The Image Usage property controls the options the user has when controlling the image displayed in this field. If you only require the Shared Album you should choose 'Not Required' from the list in this setting.
If the property SharedGalleryName is not present in your property list, you will need to manually add it (Please note that this requires you to launch Acrobat as an administrator).
To add this property, click the Add button below the list of properties (as highlighted below)
Configure the menu which pops up so that it perfectly matches the following configuration: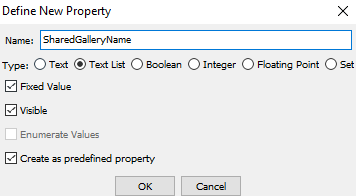 Once configured, click OK, save the configuration, then select Image Fields from the list and once again, click OK.
The SharedGalleryName property allows you to specify the names of all of the galleries you have created in the Storefront that are available to this product, in this field only. To edit this, simply click the ... that appears when you click the cell beside SharedGalleryName (See below)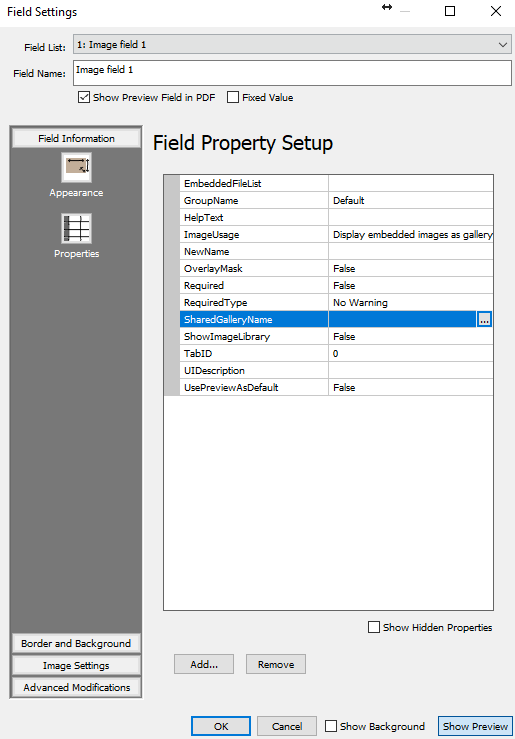 This will open a popup menu which allows you to add the gallery names in one-by-one (see screenshot below). Please note that not only can you allow multiple shared albums at once, but you will need to make sure that the names you add here perfectly match the shared album names.