Overview
Packaging Slips contain information at an order level.
A Packaging Slip in Infigo is essentially a PDF that contains information about the order. Generally, it will be printed with the order and placed within the parcel that is then shipped. It will contain order details like shipping and billing address, a summary of the items purchased and potentially breakdown of the costs.
Creating your own Packaging Slip
Attached to this article are our Infigo Default Packaging Slip templates. Feel free to download these and use them, or create your own using these as a base.
We allow for users to create their own Packaging Slips in Infigo. You can do this in the same way as you would build an Infigo Variable product, using the Infigo Designer plugin in Acrobat..
When populating the Packaging Slip with order information, you must use a specific set of placeholders in order to display the information you want. In order to understand more about what placeholders are available for you to use, you can navigate to Configuration > Placeholder Overview in Admin or search 'Placeholder' in the Admin menu search.
There you will find a list of available placeholders and their definitions which can be used when building your Packaging Slip. Items under the Order tab may be used for Packaging Slips. When you click on the > next to the Name, you will see an Example of how the placeholder may be used.
Uploading the Packaging Slip
Once you have created your packaging slip you need to upload it in Admin. Navigate to Infigo Settings or search for 'Infigo Settings' in the admin menu search.
Scroll down until you see the Variable Packing Slip File upload area.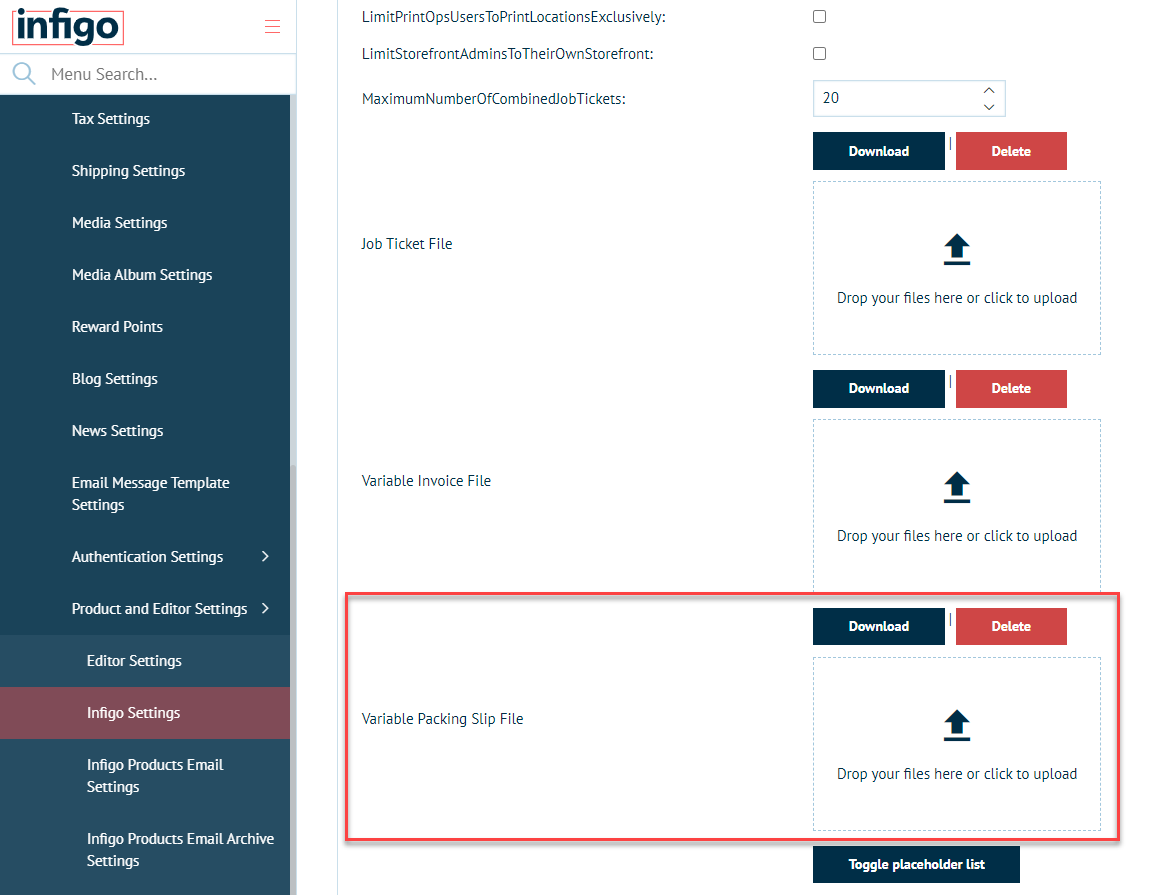 NOTE
If you upload the Packing Slip to a specific Storefront, it will only apply to that Storefront.
If you upload the Packing Slip to the Platform, it will apply this specific Packing Slip to all Storefronts.