Overview
A Product Variant controls all the vitals of a Product.
Infigo supports the use of only one Product Variant per Product.
Click the Product Variant tab at the top of a product you are editing, locate your Unnamed variant in the grid, and click Edit.
There is no need to give a variant a name. With no name it takes on the name given to the product which is mandatory.
A SKU code is useful, this can give you a stock reference and can be populated on the job ticket if required.
Pricing
Below you will find the price.
Pricing details can be found here.
The system currently supports the following pricing types:
Price per item

Price per item with tier reductions

Price per item with sliding cost adjustment

Quantity drop down pricing
It is also possible to set minimum/maximum order quantities, and batch counts items can be ordered in:
Postage
Delivery can be switched on or off per product. Switching delivery off allows you to skip the delivery address capture when checking out which is very useful for direct mail campaigns that contain their own address detail.
You also have the ability to override any postage costs to set a product to use free delivery. All products must be set to free delivery with 0.00 the cost of the delivery in the basket on checkout.
You can override the default delivery price per item with an Additional Delivery Charge. This will add a value on at checkout if this product is in the basket.
Entering a weight will add this product into the weight lookup table found in the delivery settings.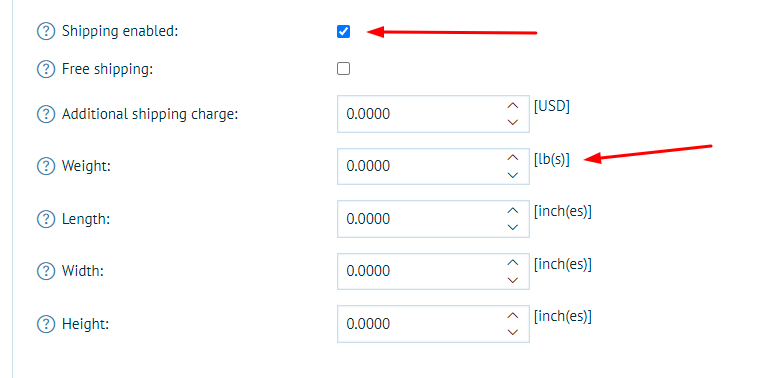 Tax
More information on Tax and setting it up can be found here.
You can switch tax on and off using the tax exempt option and set the tax band using the category list.
Stock Control and Management
Managing the inventory of products can be switched on per product.
Choose to monitor the Inventory from the drop down list and set the stock levels and notifications which appear to suit your requirements.
Attributes
Attributes can be added to products to adjust their pricing, weight, and function. These can be added through the Product Variant Attribute tab at the top of the Product Variant screen.
More information on Product Attributes can be found here.