Create an account
In order to use our Easypost plugin you must ensure you have created an Easypost account which, if you haven't done already you can do so here. For information on Easypost costs you can check their rates here.
Link up your carrier accounts
Now you have an Easypost account the first thing you need to do is link up all your carrier accounts with Easypost, so that you can start to use them and Easypost has access to fetch rates and generate shipments.
Login to your Easypost account and then click on the down arrow next to your email address in the top left corner and then from the menu select 'Carrier Accounts'.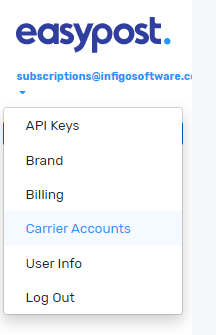 Its very easy to add new carriers from here, simply use the search on the right hand panel to find the carrier you want to add to your account.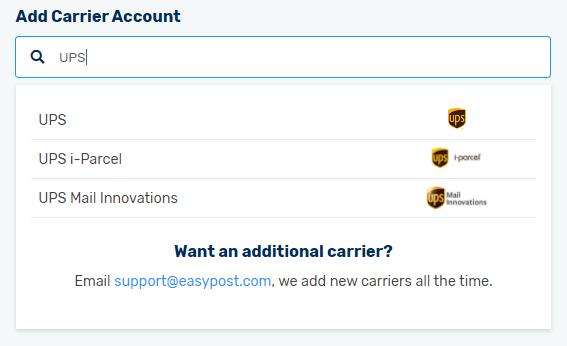 Here is a list of all the carriers that Easypost currently supports https://www.easypost.com/carriers. If there are carriers missing that you would like adding, then you can reach out to Easypost directly to see if they can add them to their supported list.
Once you have located and selected the carrier you want to add, you will need to populate all the details required to connect to that carrier. This information usually includes your account number, address details and any other carrier specific details so its best to have these to hand before you start.
Setup Payment Method
To add billing information to your account you can do this by clicking on the down arrow under your email address and selecting 'Billing' from the menu.
From here you can then add bank details or credit card details for any chargeable usages of your Easypost account.
Use the Easypost Checklist
Easypost have a handy Checklist feature if you click on the symbol in the bottom right of the screen it will guide you through the steps to get setup
Obtain API Keys
In order to connect to your Easypost account from Infigo we require your Easypost API Keys. To retrieve these from your account click on the down arrow next to your email address in the top left corner and then from the menu select 'API Keys'.
On this page you are presented with two API keys. One for Production and one for Test. For now, copy and save both API keys somewhere safe and secure as we will use these later when setting up your Easypost Infigo plugin.