This article demonstrates how to add of SKUs to attribute combinations. This feature will be beneficial in the circumstance of products featuring specific attributes relating to the product variant. An example of this would be that of a T-shirt that would possess many different combinations, however the two primary combinations would be of both colour and size.
In this article I will be using the aforementioned t-shirt as the example product, along with corresponding attributes.
Step One
Create a product within Catfish (and assign the product variant with one or more product variant attributes) these attributes will consequently be assigned values relating to the overall attribute in question. For the purpose of this example, two attributes have been created (Colour and Size) with the former having four colours (Blue, Green, Red, Black) and the latter having three measurements of size (Small, Medium, Large) as respective values.

The values of both attributes are shown below:
Colour
Size
Selecting the Attribute Combinations' control will enable a pop-up window to appear and which will feature a menu of both the product attributes currently assigned to the product variant as well as further actions of altering the quantity, allowing a product to be marked as 'out of stock', and to enter a unique SKU against a unique attribute combination. Selecting both prominent drop-down menus will allow for the subsequent pairing of attributes to occur (for instance the colour 'Red' and the size 'Small' can be paired together as a unique combination representing a properties of the over all product (T-shirt). 
 Step Two
 2. Following the setting of both the colour to a size, as well as a SKU value, selecting the 'Attribute Combination' tab will allow for relevant attribute combinations within Catfish to be created: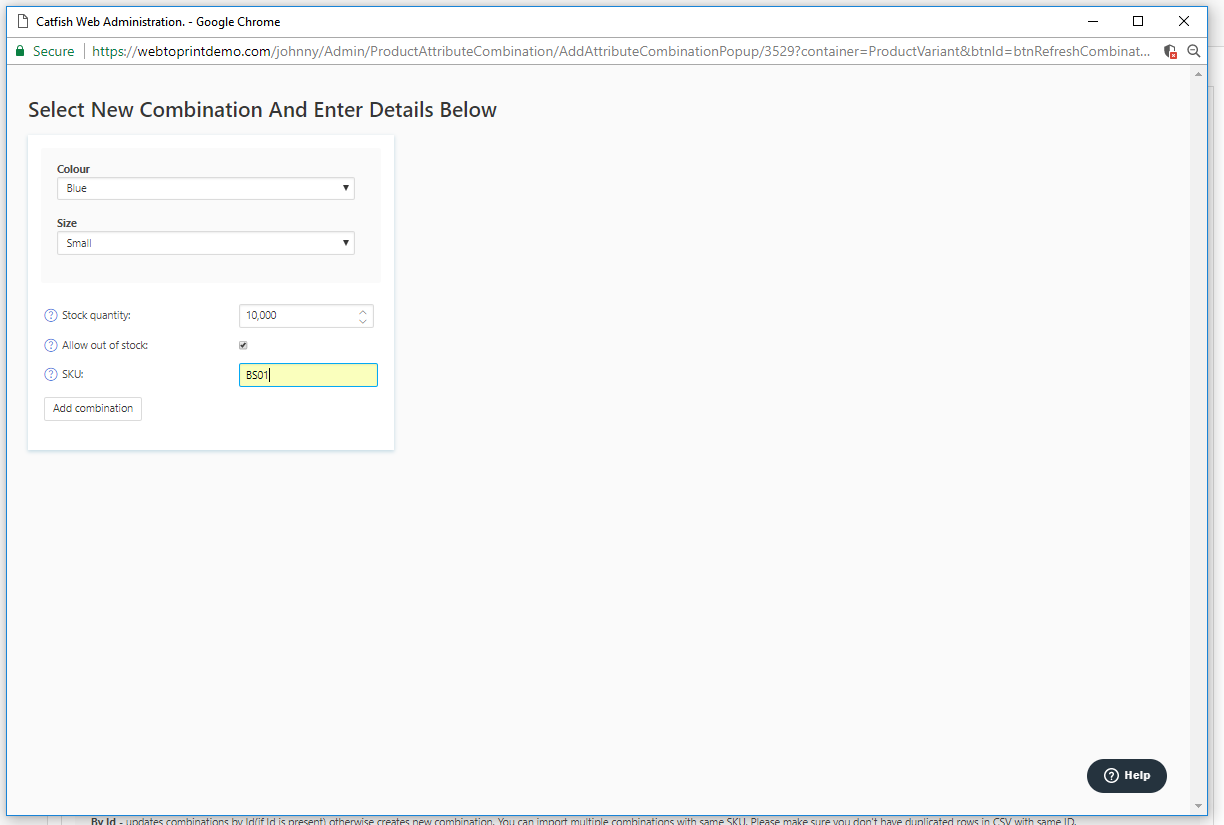 The below screen capture depicts the opening window of the 'MIS Configure' control.
Repeat the above stage for all of the attribute combinations. Following the above stages and ensuring that all stages have been carried out correctly, the SKU will thus be visible on the front-end of the storefront.
Note: At this stage it would be good practice to ensure the necessary setting, relevant to the SKU, is enabled within Catalogue Settings.
The relevant setting is that of: 
Further settings that are worthy to note are of:
To test the above configuration, the next stage would be to place a test order with the item in question. Navigating to Customers → Customer Management -> Select a user and impersonate.
The below image depicts the item as shown on the front-end of the storefront; selecting any combination of size and colour will display the SKU of the said combination on the product landing page (due to enabling this setting) and as aforementioned previously.
Once the test order has been placed, you will be able to download the output from the Shared Print Operations.