With MegaEdit editor, you can reset the changes you made to the product. The changes will revert to the default settings on all the pages.
To reset the changes,
1. Open the MegaEdit editor as described in section Getting Started with MegaEdit.
    The Editor homepage is displayed.

2. Click on the
 option. If you want to reset the changes made only to the current page, select the
 option.
   The reset warning message window is displayed.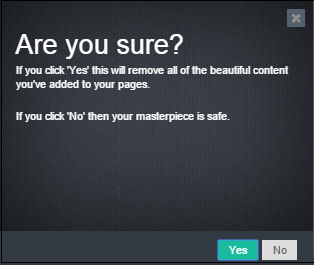 3. Click Yes.
    The editor will be refreshed and the changes will be reverted to the default settings.
The changes are auto saved in the editor.