With MegaEdit editor you can change the global settings of the page(s) at once.
To change the settings,
1. Open the MegaEdit editor as described in section Getting Started with MegaEdit.
The Editor homepage is displayed.
2. Click on the
option. You have access to Cover, Size, and Stock Options. These will only show if you have more than one enabled through Infigo.
Cover Options: These are your Output Types found in your Dynamic Product's Settings.
Size Options: These are the Canvas Sizes available, and are enabled in your Dynamic Product's Settings.
Stock Options: This is the stock settings you created and enabled within Infigo for your product.

3. For the Cover, simply check the option you want and press Change.

4. For Size Options, check the size you want and press Change.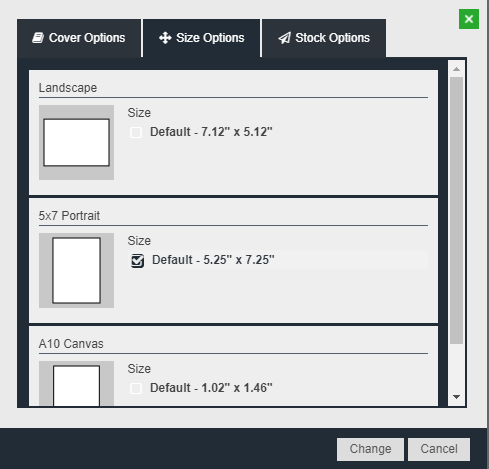 A warning message will appear explaining that images on your canvas may have lower resolutions and the editor will highlight those images.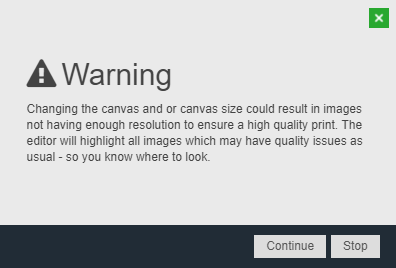 Ensure that the Use smart layout option is selected and click Continue.
The selected size option will be added to the layout for all the pages of the product.
The changes are auto saved in the editor.
5. For the Stock Options, check the stock you want and press Change.