Catfish supports SagePay as a payment gateway.
Setting up SagePay
When filling in an application form for SagePay, you will be asked several questions:
Are you integrating into an 'off the shelf' shopping basket? Answer

Yes

. Specify

Other
Which system do you wish to use? Answer VSP Server

A list of allowed IP Addresses is attached to this knowledge base item.

Your subnet mask for these IP addresses will always be 255.255.255.000
Applying SagePay to a storefront
Login to the storefront as an Administrator.
Navigate to Configuration > Payment Methods. 
Locate the SagePay gateway, click Edit and tick the box to enable it. Save the changes
Click the Configure link for Sagepay.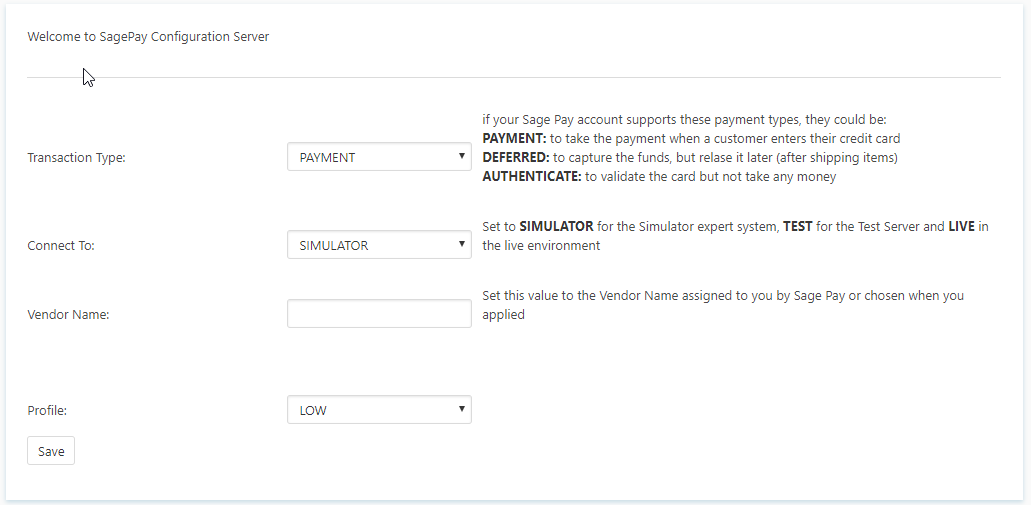 Configuring SagePay payment method
TransactionType should always be left as PAYMENT
Connect To allows you to choose the Test account on SagePay before they will move you into Live. Always begin with testing, ensure all transactions go through successfully, and then, when your Live account is enabled by SaegPay, enter this menu and adjust to LIVE
Vendor Name is provided by SagePay when you sign up to us the system
AdditionalFee allows you to charge an extra amount for transactions through the SagePay gateway
Both Domain Name fields should contain the root path to your storefront. This should include the initial http:// and a trailing /
Profile should always be left as LOW
Save any changes, and test the functionality in your storefront.
NOTE 1: 
Please make sure the storefront "URL alias" is not in capital letters, it Must be lowercase otherwise sageway won't work.
IP Address
You must allow the following IP address's within SagePay